Catfight!
plays the 5th Annual
Starlight Six
Drive-in Invasion
Sept. 6, 1999
Cars Love Drive-Ins

Labor day weekend I went to the Starlight Six Drive-in to see Catfight! perform with several other bands for the Starlight Six Drive-Invasion. There was music, barbecue, classic cars, and cool people. It was a whole lot of fun. The Starlight was celebrating 50 years in Atlanta and is one of the few drive-ins left in the nation.

It's been years since I went to a drive-in. Actually it was back in high school when Erin and I snuck three people in, in the trunk of her car. Oh, the stupid things we did in high school. But the Starlight Six is pretty nice, big, and well laid out in a terrace format. This way not everyone is looking up and no one is in your way. But, on the down side, there is no grass below the screen to lay out a blanket. You're better off doing the tail-gate thing.

Some fans came out in 1950's style clothing: Maybe it was to honor the Drive-in days gone by or maybe that's the way Truckadelic fans always dress. Either way, it was nice to see.

Just after four o'clock, Jennifer, Anne, and Katy came out to start the show. There were some last minute things to do, so I asked Jennifer to take a picture of Anne for me. It's always hard to get good pictures of drummers, because they are so far back on the stage. Even though she'd never used a camera like mine before, she did a good job. Anne is smiling and everything - Thanks Jen.
Catfight! (
website
)
Three rockin' babes who've broken more hearts than Mamie Van Doren!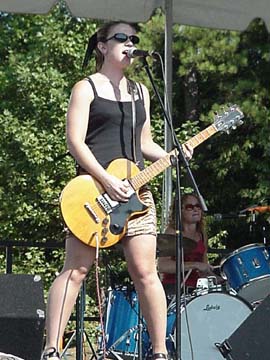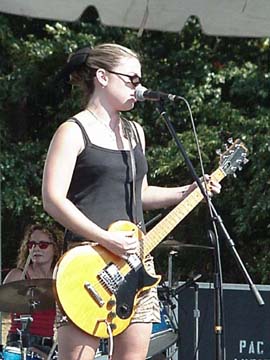 Jennifer Kraft - guitar
Formerly of Bite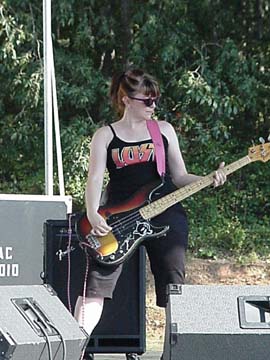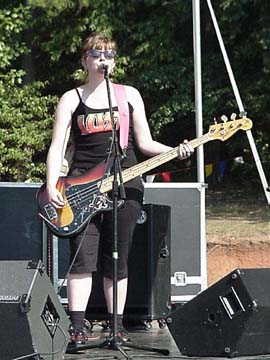 Katy Graves - bass
Formerlly of Doll Squad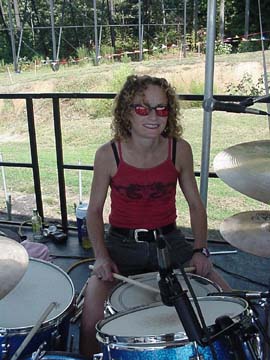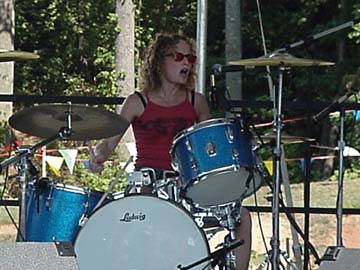 Ann Ciovacco - drums
(Left photo by J. Kraft)
Formerlly of Doll Squad
Swami Blues
The Swami's got his own bag of tricks, full o' Chicago-style hanking blues!

Truckadelic (website)
Truck-wreckin' southern-fried rock&roll insanity!

The Lizardmen
The British Invasion hits again with Atlanta's sharpest dressed band

| | |
| --- | --- |
| | Aren't they great? |


Doesn't this Fox 5 News reporter look just thrilled by all the music and fun?
Wow an actual drive-in in Atlanta, who would have thought?
Text in italics from Starlight-Six flyer
All pictures are the property of Stefan and are not to be posted on other websites or published in any medium without express written permission.
---