As always, 6X put on a great show, this time with Catfight! and Star Collector at the the Star Community Bar in Little Five Points, Atlanta.
Pre-Show warm up
Star collector opened the show, but not many had arrived yet on the cold rainy Saturday night.
6X takes the Stage
But by the time 6X took the stage the venue had filled up nicely and the beer was flowing freely. Kevin started the madness by wrapping his guitar in Christmas lights while Rob followed suit wearing a Santa hat and Lara mixed the crowd into a frenzy by throwing candy canes. Her very conservative red dress and white stockings reminded me of a Salvation Army volunteer, which I think she intended. It was pretty funny to watch Kevin's lights fail as he frequently tripped on the cord and unplugged himself.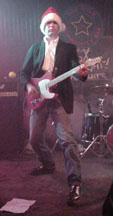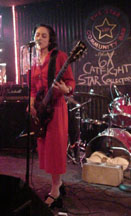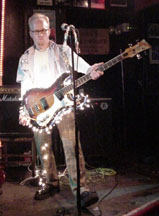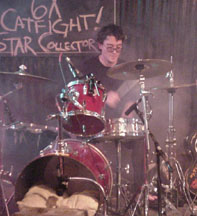 The music had its usual powerful beat and the danceable rhythm really had the audience bouncing around in a Happy Christmas way. But when they switched over to their own version of several Christmas classics, the audience went wild.
It was especially fun when 6X invited Katy and Jennifer, from Catfight!, to join in the craziness on stage for a hilarious but totally screwed up version of Santa Baby and Rudolf the Red-nosed Reindeer: This should have reminded us all of Lara's famous words, "It better when it's sloppy".
Playlist

Ice Cold
Rock Out
Do As I Say
SMRT
My Boat
Far Away
Bowling Baby
Lost Your Chance
Santa Baby
Blue Christmas
Rudolf the Red-nosed Reindeer
Feliz Navidad
Rob Gal, very appropriately for the Elvis-loving venue, sang his version of Blue Christmas. I believe his closing words were, "If Elvis wasn't dead, he is now."
They closed with a very enjoyable version of Feliz Navidad. I never knew "Yo Quiero Taco Bell" was part of the lyrics but when Lara sang it, it sounded great.
Catfight! Finishes Big
Katy was definitely into the Christmas spirit wearing her new green-hair wig and Santa cap. Ann was also getting into the wig action with a mane of platinum blonde hair. Jennifer looked great, I guess she's been growing her hair out because she's now sporting long blonde tresses and wow does she look good.
Catfight's show was interrupted by a drunk who ruined many of my pictures and tried to spoil the videotape being recorded. Jen joked about him until the bouncers finally dissuaded him. But he came back later and really detracted from the show. I guess the Star Bar staff doesn't really know how to deal with trouble makers.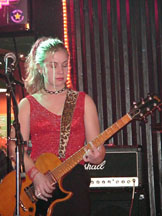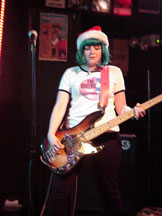 Still, the show was awesome and the girls sang beautifully and with energy. They even belted out some Christmas tunes, although they weren't at all traditional. Visit the Catfight! website here.
See Y'all next time.
All pictures are the property of Stefan and are not to be posted on other websites or published in any medium without express written permission.